Fall Update – Carbon Farming and Intro to Zach Jones & Gabe Brown
The headline update is that the SA Ranch is refining its mission. Going forward, our focus will be to employ "tried and true" regenerative agricultural practices that are designed to increase soil organic matter and sequester carbon. The SA Ranch is effectively now a carbon farm. Being a carbon farmer is completely consistent with the goal of improving soil health. Healthy soil providing climate benefits and grows nutritionally dense food while creating many other environmental wins with clean water, wildlife, erosion etc. To accomplish this carbon farming goal, the SA Ranch has hired Zach Jones as General Manager (see Zach's bio here) and has entered into an operating agreement with Gabe Brown.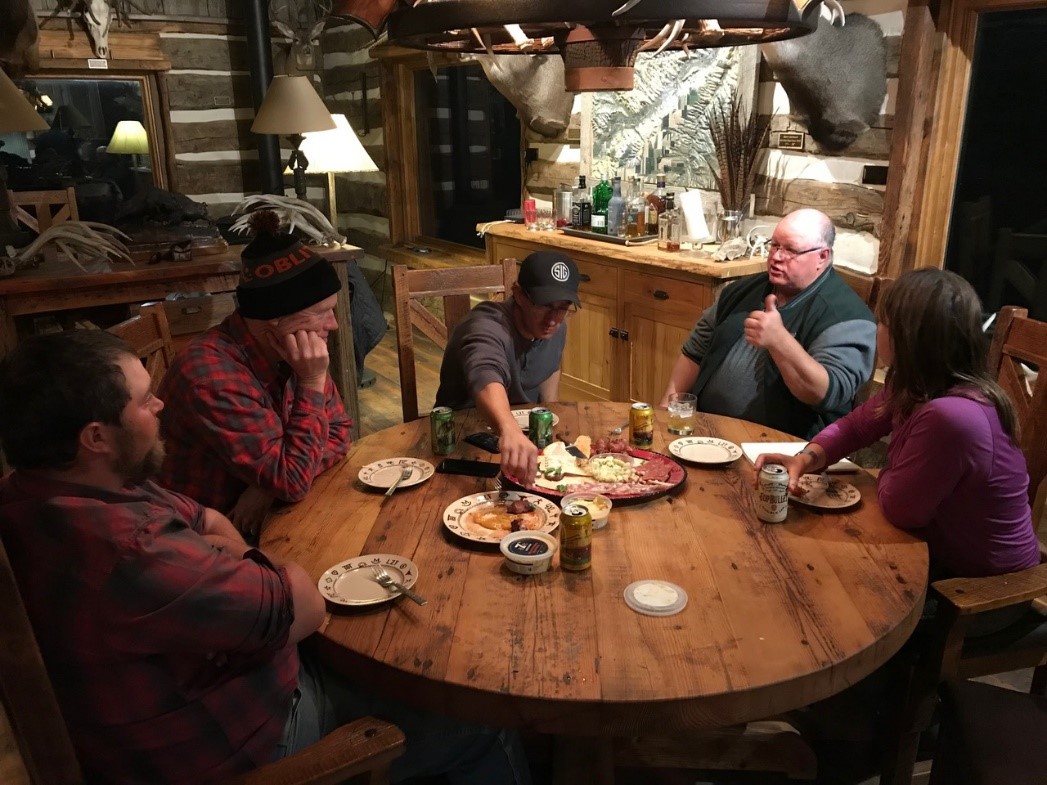 Gabe Brown, holding court with the SA Ranch team.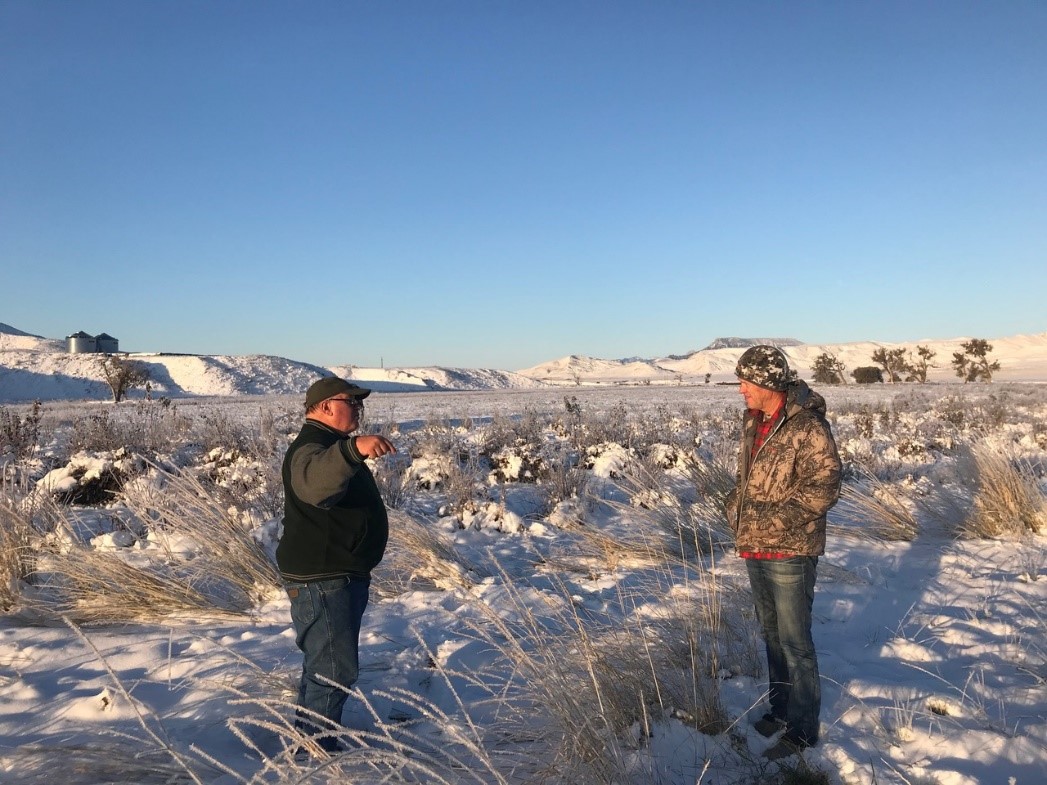 Gabe explaining next steps to Eric.
If you Google "Gabe Brown farmer" you will get over 1,000,000 links. Gabe's approach and farm was discussed at a recent Democratic Presidential candidate debate as an example of a real world climate change solution. Without question, he is one of the leading authorities on regenerative agriculture in America. What we really like about Gabe is that he is a farmer at his core but he also clearly understands that to invoke broad scale change, regenerative practices have to make economic sense. Nothing he proposes is academic or theoretical for his advice is based on real experiences from managing his 6,000-acre ranch in North Dakota.
Gabe's six principles of regenerative agriculture are:
1. Limited to zero tillage
2. Armor the soil surface
3. Increase biodiversity in all pasture & cropland
4. Living roots should be in the soil at all times
5. Integrate livestock animals
6. Context matters
Gabe has achieved remarkable results as it relates to carbon farming on his land the Brown Farm. Twenty years ago, Gabe's farm had soil organic matter of approximately 1.6% which held roughly 20 tons of carbon per acre. Gabe's land now has approximately 8% soil organic matter and holds 95 tons of carbon per acre. Over the last ten years, the rate at which he has been able to sequester carbon has accelerated and his farming practices are responsible for sequestering 4-6 tons of carbon per acre, per year. These are "solve climate change" sort of numbers and they are actual numbers. Importantly, Gabe's now carbon-rich land is super productive (crops yield 20% higher than county averages) and he has not used synthetic fertilizers since 2010 (healthy soil does not need chemicals) which creates high levels of profits. We are confident that having Gabe as an advisor will lead to success on the SA which we are defining as sequestering a minimum of 2 tons of carbon per acre annually over the next 5 years.
We are very excited to have Zach Jones join the SA Ranch team. Zach is fifth generation Montana rancher and has a wealth of experience both in conventional and regenerative farming/ranching. Importantly, Zach is philosophically synched up with the SA Ranch's global agendas and Zach's knowledge of how to incorporate holistic grazing practices into soil health agendas is world-class. Zach helped to found Grasslands LLC, the land management arm of the Savory Institute which brought the regenerative practices of Allan Savory (another regenerative pioneer to Google) to America. He has worked on large, regenerative ranches in the U.S. and abroad. One of the key principles of Gabe's land management practices is utilizing intensive grazing practices on managed pastures and cropland. With Zach running the show, we are highly confident that we will be able to execute on all practices required to optimize regenerative carbon farming.