Perennial Progress: Gabe Brown and Zach Jones Work Their Magic
It has almost been a year since our last Sandy Arrow Ranch update. In some ways, aspects of our daily lives on this planet have changed so dramatically over the past year that they have become somewhat unrecognizable. Amidst all this change, the steady constant in the lives of those of us dedicated to the Sandy Arrow has been our relentless focus on our goals. In our last update, we announced our refined mission to "employ tried and true regenerative agricultural practices that are designed to increase soil organic matter and sequester carbon." I am pleased to say that we have made tremendous progress towards that mission over the past twelve months. Under the guidance of Gabe Brown, Sandy Arrow's advisor, and with the stewardship of Zach Jones, Sandy Arrow's General Manager, we have some great updates to share in this post.
One of the most significant things since our last update is the virtual "tipping point" momentum change relating to regenerative agriculture. Whether it is glyphosate law suits, climate issues or nutritional deserts, everyday more news comes out on how harmful conventional farming practices are for the planet and human health. Regenerative agriculture can change the world and the world is thirsty to hear about the positive climate, environmental and health potential benefits it offers. Case in point is the visibility of one of the country's top regenerative spokespersons and our advisor, Gabe Brown. Last November, I suggested that if you Google "Gabe Brown farmer" you would get over 1,000,000 links. Thanks to his starring role in the Netflix movie Kiss the Ground, which has had 6.8 million trailer views at the time I am writing this update, googling "Gabe Brown farmer" today might break the internet and that is just fine with us. Ray Archuleta is also featured in the film. We have worked with Ray in a project led by David Montgomery, PhD to conduct "fencerow to fencerow" tests comparing the nutritional density of food grown on regenerative farms/ranches to those grown by neighboring farms/ranches where the food was grown conventionally. The compelling results of this data will be disclosed in David Montgomery newest book "You are what your food ate" that will soon be published. All the agendas we are working on are highlighted in the film. In short, Kiss the Ground makes the case that by regenerating the Earth's soils, we can balance the climate, replenish the water supply, keep species off the extinction list and better feed the world. We loved the film and its portrayal of the power of regenerative soil and especially loved that they appropriately incorporated grazing animals into the puzzle that is solving climate change. If you haven't had a chance to watch it yet, we highly recommend that you take the time to do so.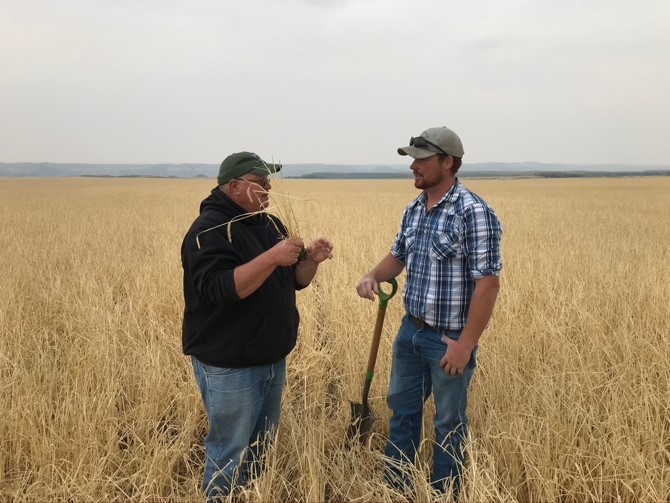 Gabe with Jay Clark, SA ranch manager in a spring planted diversified cover crop
Another significant change since our last update is around the success we have had with our perennial wheat crop, which has evolved and accelerated into a very specific goal. You may remember from our Spring 2019 update that we started working with The Bread Lab (a Washington State University research affiliate) to test and further develop a strain of wheat designed to flourish in heathy (ie regenerative) soils while optimizing around flavor and nutrition (conventional wheat is optimized around yield). In the next few months, we will be branding this new wheat under a Salish Perennial trademark. Salish is a new variety of perennial wheat that Steve Jones (founder of The Bread Lab) has been developing for decades. Based on our recent test plots on the SA and Steve's efforts in the Skagit Valley, it is the SA team's collective view that this crop is ready for prime time. We will be driving to have 250 tons of this product for sale after the 2022 growing season. This will be no easy task because the volume of seed stock needed to plant and harvest that many tons of finished crop does not exist today. If we execute on our plan, some lucky commercial purchaser (hopefully Patagonia Provisions is reading this) who cares about nutrition and the environment will create products for consumers two years from now that will have the amazing Salish Perennial story attached. Long term, Salish Perennial will only be grown on regenerative farms and we will tightly quality control this diversified basket of grain. We believe that the environmental and nutritional power of this plant will be staggering if we can prove it out at scale. We believe we are on the path to doing just that. More to come on this in the months ahead…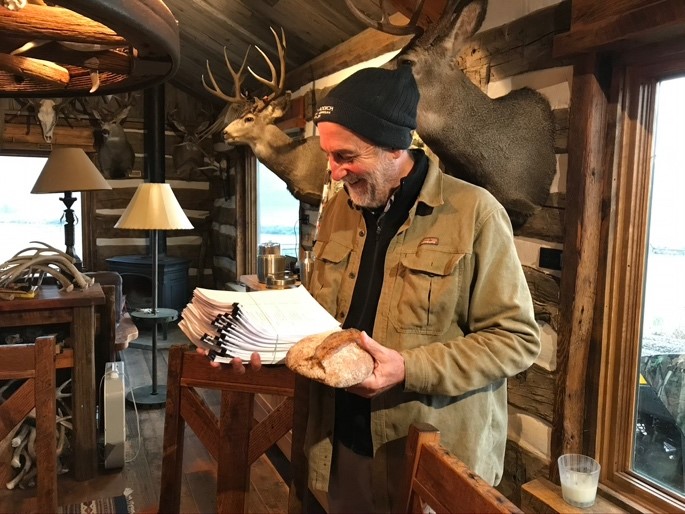 Steve Jones, The Bread Lab
The last change I wanted to highlight has been the impact that Zach Jones, Sandy Arrow's General Manager, has had on the various ranch initiatives. Zach has brought a discipline to the business of managing the ranch, its staff, and its strategic objectives that have helped to make all our progress in the past year possible. In mid-September, we held a summit on the Sandy Arrow to bring together many of Sandy Arrow's advisors and thought leaders. Zach has summarized the agenda of the weekend below and highlighted some of the accomplishments on the ranch over the past year.
We are looking forward to announcing a few more exciting updates that we have in the works so stay tuned. I wanted to leave you with a quote that really hit home for me – it is at the heart of everything that we do on the Sandy Arrow to move the needle towards making our planet a healthier place.
"The health of soil, plants, animals, people, and the environment is one and indivisible." – Sir Albert Howard, 1947
Sandy Arrow Summit: Perennial Progress
In mid-September 2020, several regenerative agriculture leaders came together at the Sandy Arrow for a summit to review the ranch's progress over the past year and build momentum and focus for the coming year's growth.
Participants:
David Montgomery, Ph.D. – regenerative agriculture author; professor, University of Washington
Gabe Brown – farmer; author; leading regenerative agriculture educator
Jason Rowntree, Ph.D. – professor, animal science, Michigan State University; emphasis in soil carbon, water, and life-cycle energy analysis
Steve Jones, Ph.D. – director, The Bread Lab; professor, Washington State University
Eric Dillon – owner, Sandy Arrow Ranch
Zach Jones – general manager, Sandy Arrow Ranch
Jay Clark – ranch manager, Sandy Arrow Ranch
Agenda
The regenerative management of the ranch embraces a holistic framework, simultaneously balancing social, ecological, and financial dynamics. The ranch's work is simultaneously focused on 1) the Sandy Arrow's day-to-day operation and, 2) the interdependent replication of regenerative agriculture throughout the Northern Great Plains. An executive summary of the agenda follows.
People – the past year's transition included the resignation of Dave Martin, long-time ranch manager, and Joe Barta, director of regenerative farming. Jay Clark is the new ranch manager and Amelia Harms is ranch hand and both have done an outstanding job this spring and summer.
Livestock – the cow/calf pairs were run in one herd this summer on the creek and breaks, using 2-3 week grazing periods, compared to 60 plus day grazing periods historically. The yearlings were intensively grazed on cover crops, moved to fresh forage every 1-2 days, compared to 60 days plus grazing periods in the past. The cows' and heifers' calving season has historically been Feb/March and has now been moved to May/June, in sync with nature.
Farming – the ranch, led by Joe Barta at the time, day and night, planted 1,300 acres of cool-season cover crops in April and May, plus 43 acres of warm-season cover crop in July. These crops produced, on average, over 50 grazeable stock days per acre, plus ample litter, now laid down as armor on the soil surface. We did not grow or harvest any commodity cereal grains but did harvest our own cool-season cover crop seed for over 1,300 acres of future use. We also harvested an acre of Salish Blue, Steve Jones' perennial grain, which is growing on the ranch.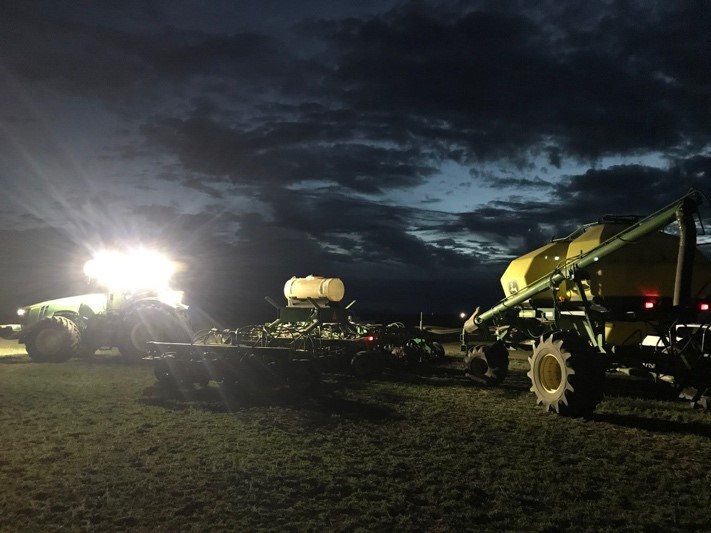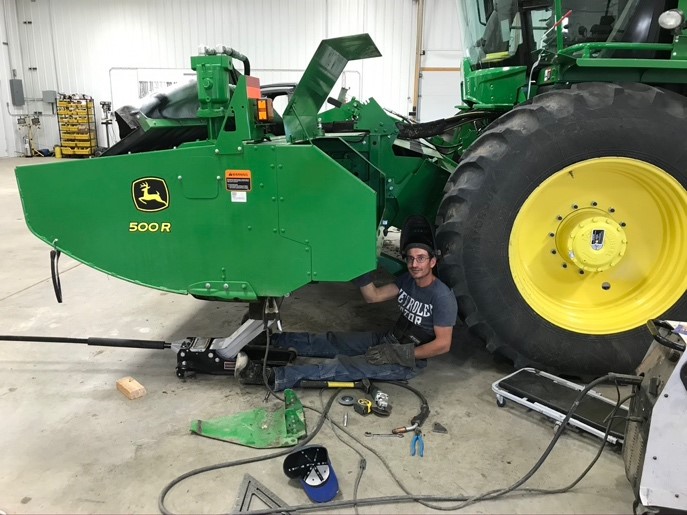 Preparing the swather for hay-harvest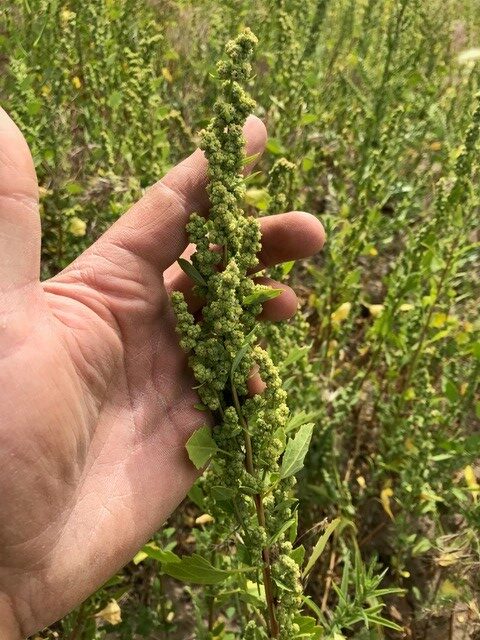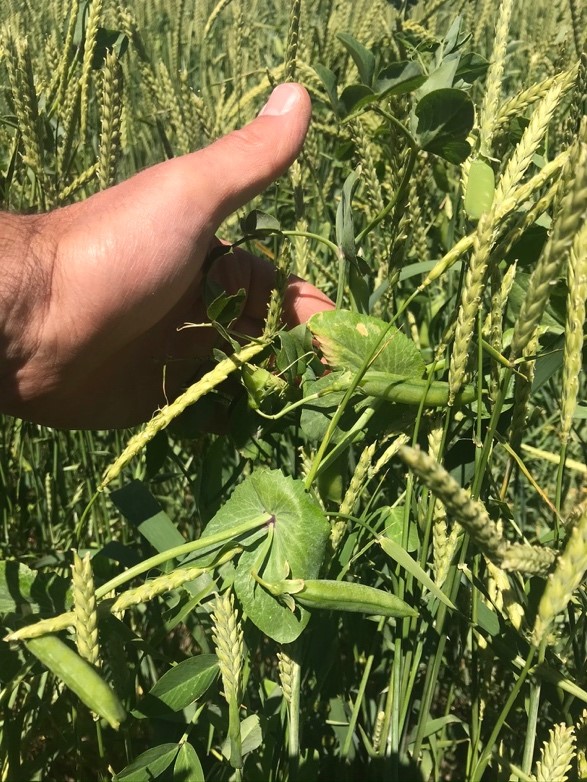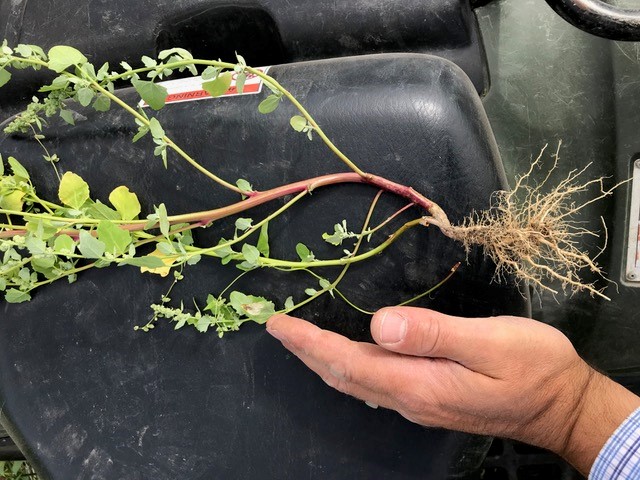 Beneficial as a cover crop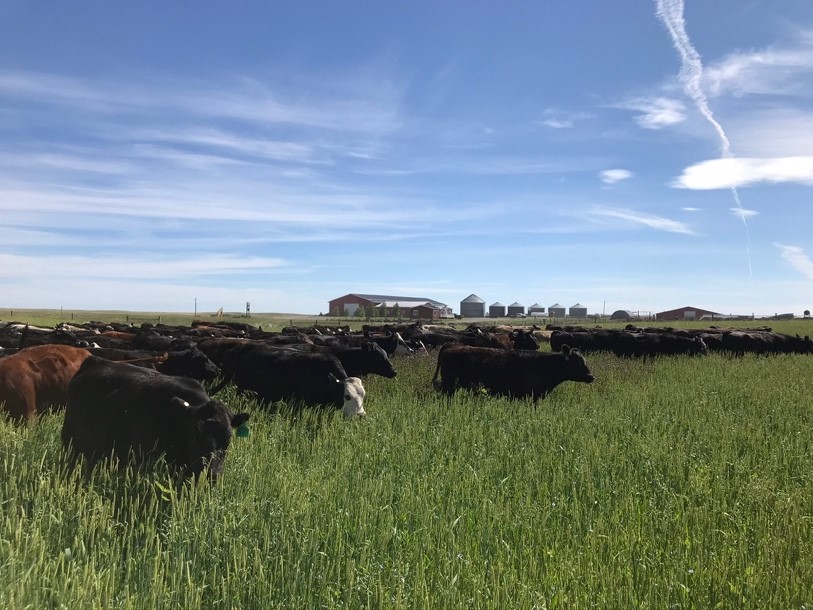 Yearlings grazing on the Lambsquarters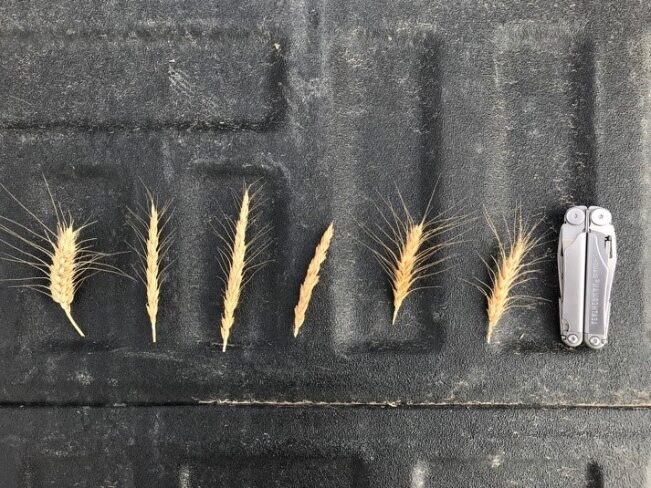 Diverse variations of Salish Blue grown on at SA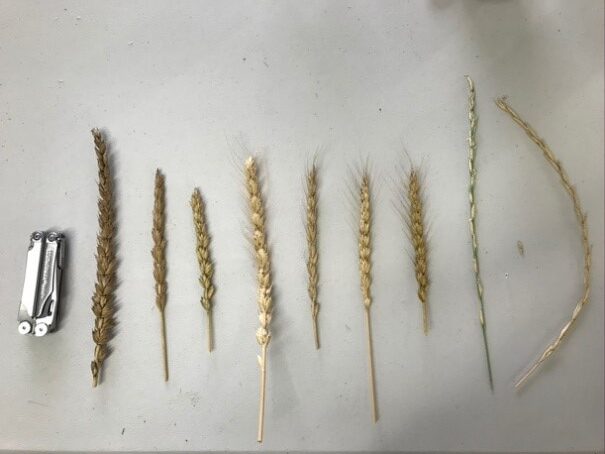 …and others grown in Washington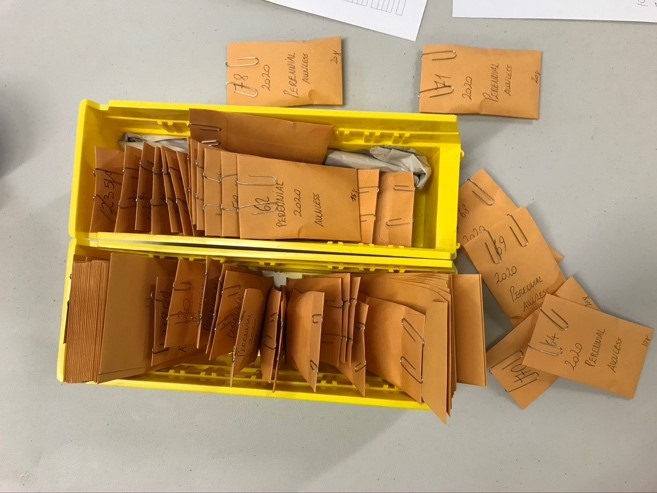 45 Salish Blue varieties planted in 2020 on the ranch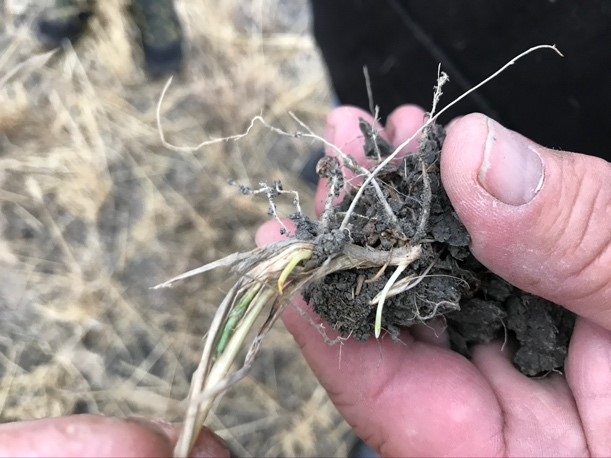 …and re-growing Salish (late Sept)
Fence – with our partner, Crabtree Fencing, we removed 9 miles of dilapidated, abandoned barb-wire fence; built 1.4 miles of new barb-wire fence; built 6.3 miles of hi-tensile electric fence; and constructed several new centralized stock-watering cell centers. Additionally, our ranch team, for the cow and yearling herds, built over 25 miles (and counting) of temporary single-wire electric fence, enabling us to reduce grazing periods and lengthen recovery periods.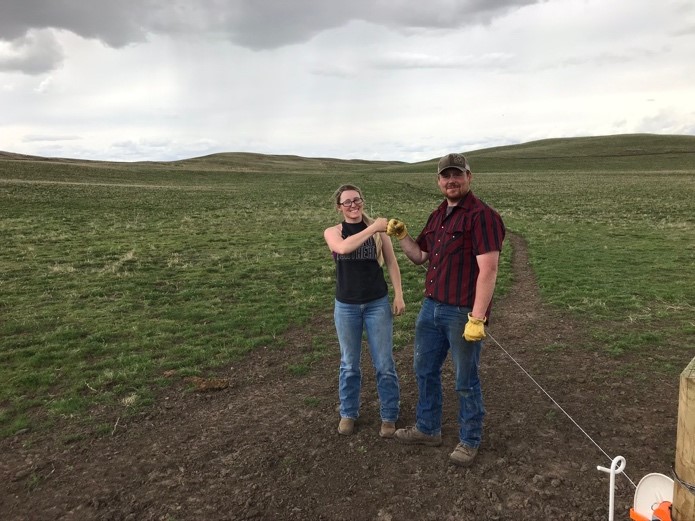 Jay and Amelia, 25 plus miles of temporary fence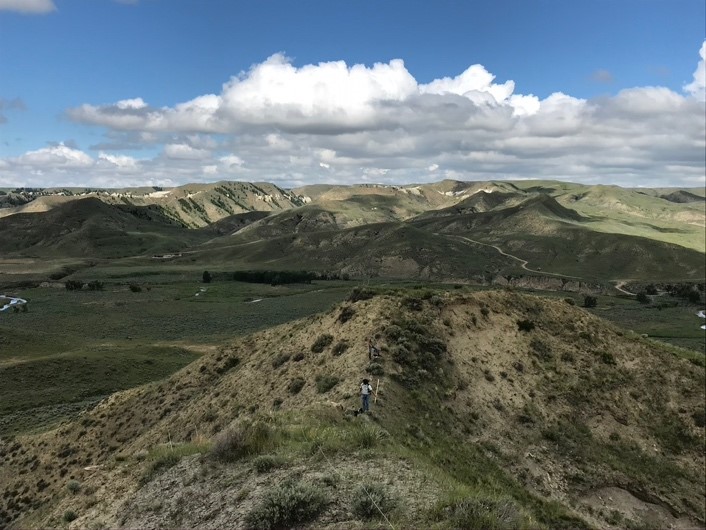 …on both flat ground and ridgelines
Stockwater – on our Bench unit, with our partner Griffith Contracting and Arville Lammers (engineer), we installed 4.5 miles of 3-inch diameter water-line (buried frost-free, 6 feet under-ground) and 12 water tanks. This system, uniquely merging water sources (in an area of Montana with the minimal accessible ground or surface water), services the ranch's land that supports 50% of the year-round stocking rate.
Science – Quantifying the ranch's baseline, using data gathered over the past 6 years by Molly Haviland, Yale University, Montana State, and others, and implementing new scientific methodologies, is an important effort. In addition to continuing to discover the best (statistically relevant, affordable, and scalable) way to measure soil carbon, we're quantifying soil health metrics; the soil's ability to absorb water; assessing plant, wildlife, and insect communicates; and measuring the nutritional content of the ranch's meats, grains, and lentils.
Food – The ranch's primary function is to convert solar energy through photosynthesis into edible plants, for both insects, wildlife, domestic livestock, and, of course, people. Regenerative agriculture's core mission is to regenerate the ecosystem's ability to thrive, producing diverse, nutrient-dense food up and down the food chain. For Sandy Arrow's context, red meat, in the form of beef, and grain, in the form of wheat varieties, are the most applicable products. Producing nutrient-dense, pasture-based beef and perennial grains from regeneratively managed soils are our north-star. With our partners (including this summit's participants), and other regenerative practitioners throughout the world, proving out how to transition from low nutrient density foods from depleted soils to regenerative soils and restorative food is paramount.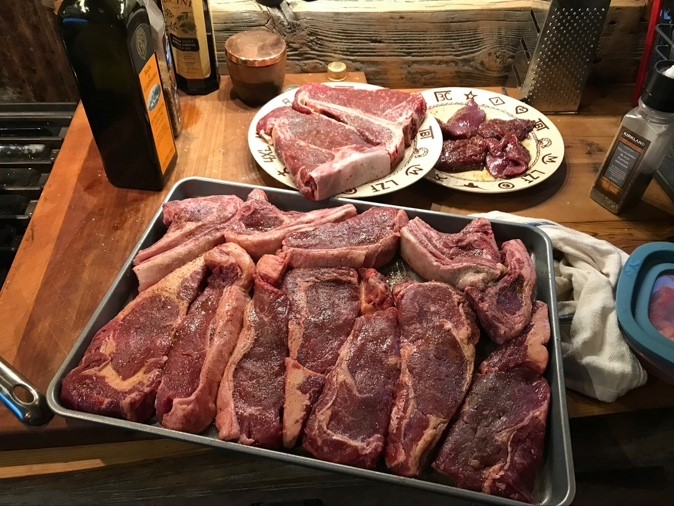 Beef, lamb, and sharptail grouse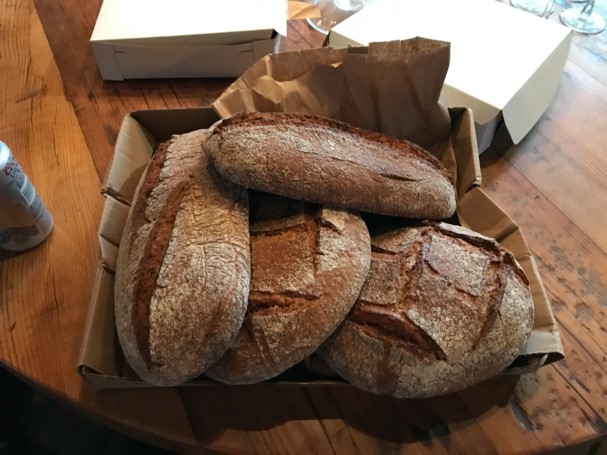 …plus some Salish Blue loaves
Main focuses as we head into 2021
People

Continue learning regenerative principles and implementing tools and practices for the day-to-day operation of a ranch and farm.
Improve on the succession of place-based experience and wisdom, which leads to better management decisions.
Stay focused, motivated, and connected to like-minded people practicing regenerative management.

Grazing refinement

We will improve our grazing management, shortening our grazing periods even further, and increasing stock density.
More effectively graze cover crops, fuelling the carbon pump, and accelerating soil health improvement

Perennial grain

Develop diverse mixes of plants to sow simultaneously with Salish Blue
Sow 45 different varieties of Salish Blue at the Sandy Arrow in a small plot, beginning our own breeding operation, accelerating Steve Jones' and The Bread Lab's work.
Plant 15 acres or more of Salish Blue, including from seeds already grown on the ranch, which will produce acclimated seeds for an additional 150-300 acres.

Science

Continue advancing measurements of soil health, soil carbon, and the soil's ability to absorb water, working with Gabe Brown and Jason Rowntree.
Measure red meat and grain nutrient densities, merging this data with David Montgomery's work.
Further assess the ranch's biodiversity of plant, insect, and wildlife communities.

Potential hurdles

We are headed into autumn with a shortage of soil moisture, with our area of Montana classified as Moderate Drought. This brings some complexities to crop farming and early-succession grazing pastures. We will closely monitor our ranch-specific moisture metrics.

Make Progress (a crop in itself) a perennial harvest